Fearful - Santura / Gorilla (AM8T002) - Out 3/12/12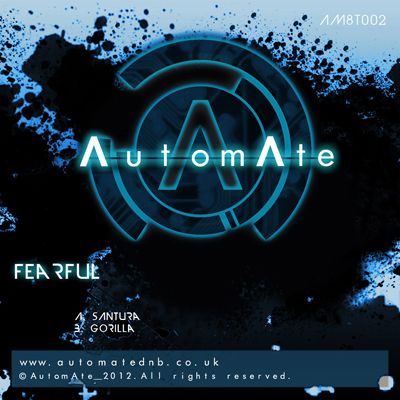 2012 has seen Fearful gain the support of an impressive list of DJs and, with a number of respected labels now sitting up and taking notice, the boys seem to be manoeuvring into position to take the scene by storm!
Santura is the sound of Fearful getting out of the wrong side of bed, grumpy and brooding. Gorilla shows a very different side, in the form of an outrageously gritty, groovy stepper.
This release has already caught the ear of Kenny Ken, Optiv, Chris SU, Amoss, Nyx (Renegade Hardware), Phil Hustle, Dexta (Diffrent Music), Cursa, Bad Education, Philth and Retraflex.
http://soundcloud.com/automate-dnb/sets/am8t002/
Available from Monday 3/12/12 at all good online stores including Beatport, TrackItDown, Juno, iTunes, Amazon, 7Digital and many others.
Beatport -
http://btprt.dj/11aeKMo
Juno -
http://bit.ly/WuGJlH

TrackItDown -
http://bit.ly/Vda0Gl
Santura has also been chosen as the theme tune to The Drum And Bass Diaries, an 8-part series of short documentaries, created by the crew behind the Genesis events in London and featuring some of the scene's top heads. It will be running 8pm every Sunday until the end of 2012 and will remain available afterwards on a dedicated YouTube channel --
http://www.youtube.com/user/thednbdiaries