AutomAte Podcast 24 - Esion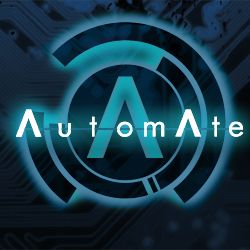 AutomAte Podcast 024 - Esion
Search for 'AutomAte dnb' in the iTunes store:
http://bit.ly/g1MJ9R
or hit
http://www.automatednb.co.uk
or listen / download from soundcloud:
http://soundcloud.com/automate-dnb/podcast24
Bristol-based DJ, producer and AutomAte Tech label boss.
Esion has been on the scene, under various aliases, for well over a decade. His DJ career has touched a long list of UK venues and has spanned a variety of genres including dnb, dubstep, breakbeat, hip-hop, hard dance, hardcore, freeform and techno. These days he plays mainly dark, techy & industrial dnb but expect surprises, he's just as likely to drop a cheeky glitch-hop or booty-shaking ghetto-funk track. Diversity is his middle name and he knows what an audience wants better than they know themselves.
Esion is equally at home in the studio as on the decks, embracing the full range of technology from analogue synthesisers to digital outboard to modern software tools. As well as crafting his solo productions, he loves to collaborate and has worked with many artists across a variety of genres.
Fast forward to the present day and Esion has finally put down some roots, establishing himself alongside Deficit as part of the AutomAte crew. The AutomAte Tech label is primarily his vision and demonstrates what drum & bass means to him.
Esion -
http://soundcloud.com/djesion
,
https://www.facebook.com/pages/Esion/141507600515
AutomAte -
info@automatednb.co.uk
,
http://soundcloud.com/automate-dnb
,
https://www.facebook.com/pages/AutomAte/159623347434908
RSS Feed:
http://automatednb.podomatic.com/rss2.xml
AutomAte Tech:
Beatport -
http://www.beatport.com/label/automate-tech/28895
Juno -
http://www.junodownload.com/labels/Auto ... /releases/
TrackItDown -
http://www.trackitdown.net/recordlabel/ ... -tech.html
Track List:
01. Mefjus & M-Force ft Maksim - Struggle & Pain [Breed 12 Inches]
02. Billain - Batbots [Bad Taste]
03. Optiv & BTK - No Way Out [Virus]
04. Phace & Rockwell - Rat Race [Shogun Audio]
05. Enei - Moving Fast (Critical]
06. Ulterior Motive & FD - Drum Circle [Subtitles]
07. The Prototypes ft ID - Blackout [Shogun Audio]
08. Enei & Kasra - So Real (Mefjus remix) [Critical]
09. Arclight - Contamination [AutomAte Tech dub]
10. Neonlight - True Legend [Lifted]
11. Future Cut ft Jenna G - Obsession (Ulterior Motive remix) [Metalheadz]
12. DaVIP - UFA [Ammunition]
13. Black Sun Empire & Noisia - Feed The Machine [Black Sun Empire Recs]
14. Fourward - Talk To Me [Mainframe]
15. Lethal ft Hostile MC - Surr8ted Edge [Mute:8]
16. Future Signal - Rift [free]
17. Fourward - Side By Side [free]
18. Mefjus, Bowsar & Kaiza - Gravitational Lensing [Close2Death]
19. Esion - Damnation [dub]
20. Current Value - Harm [Subsistenz]