AutomAte Podcast 023 - Square (Mindtech Recordings)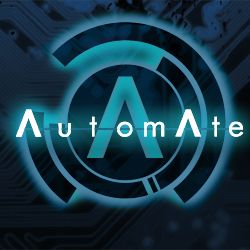 Search for 'AutomAte dnb' in the iTunes store:
http://bit.ly/g1MJ9R
or hit
http://www.automatednb.co.uk
or listen / download from soundcloud:
http://soundcloud.com/automate-dnb/podcast23
French drum & bass DJ, producer and co-owner of Mindtech Recordings.
Based in northern France, Square started his drum & bass journey in Lille, taking part in live events and getting involved in studio collaborations. In 2006, he joined the 'PlanetDnB' web radio show, based in the UK. The following year he joined the 'Hard Bass Dealers' team on radio RCV, with whom he remains to this day. Fast forward a couple more years and he is at the helm of one of the biggest neurofunk labels in the business.
Aside from being a successful label manager and promoter, Square is a talented DJ. His mixes are hard-hitting and precise, with a flow and an impact all of their own. He has been a cornerstone of Hard Bass Dealers parties and radio shows in Lille for years and still finds time to work on his own productions and collaborations and continues to develop his highly successful label, Mindtech Recordings.
Square -
http://soundcloud.com/djsquarednb
,
http://twitter.com/djsquarednb
,
https://www.facebook.com/djsquarednb
Contact -
info@automatednb.co.uk
RSS Feed:
http://automatednb.podomatic.com/rss2.xml
AutomAte's first label release is out now!
Beatport -
http://btprt.dj/SNA5GT
Juno -
http://bit.ly/SNtGhj
TrackItDown -
http://bit.ly/SNuTVT
Soundcloud -
http://soundcloud.com/automate-dnb
Track List:
01. Noisia - Thursday [Vision]
>> Halogenix - Tender Chain [Horizons]
02. Sunchase & Nickbee - Cardboard [Horizons]
03. Sunchase & Nickbee - Belltine [22:22]
04. Mefjus - Double Tap [Trust In Music]
05. L 33 - Ironic [Syndrome]
06. Emperor - Monolith [Critical]
07. Octane & DLR ft. Cern - Rawness [Dispatch]
08. Dabs & Amoss - Latch [Dispatch]
09. Minor Rain - Templar [Sinuous]
10. Semantics - Too Close [Mindtech]
11. Axi - Safe House [Mindtech LTD]
12. Rregula - Gravitron [Mindtech LTD]
13. Optiv - Stereotype [Mindtech LTD]
14. Qo - Teropod [Citrus]
15. Distant Future - Synthesis [Future Funk]
16. Ulterior Motive - Minesweeper [Subtitles]
17. Flame - The Tube [Sinuous]
18. Minor Rain - Splitter [Mindtech dub]
19. Arclight - Pluroform [AutomAte Tech]
20. Mefjus - Dogs & Frogs [Trust in Music]
21. Myselor - Alive (Insom Remix) [Mindtech dub]
22. Arclight - Contamination [dub]
23. Octane & DLR ft. Script - Set Up The Set [Dispatch]
24. Dabs & Safire ft. Mc Lowqui - Hideout [Avangarde]
25. Disphonia & Kantyze - Zig Zag [Trust in Music]
26. Future Signal - Fortress [Mindtech]
27. Square & Digital Soap - Over [Mindtech]
28. Dub Phizix & Skeptical ft. Strategy - Marka [Exit]
29. Ulterior Motive - Catharsis [Subtitles]
30. Fearful - Santura [AutomAte Tech dub]
31. Fearful & Keosz - Obedience [Future Funk dub]
32. Project & Arclight - Kalon [Mindtech]